Bridgestone Dueler H/T 685 Tyres Available in Yeovil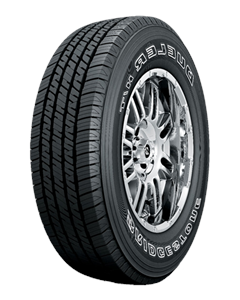 Dueler H/T 685
Engineered for heavy-duty performance the new Bridgestone Dueler H/T 685 tire is specially engineered to give your truck heavy-duty performance season after season, year after year.
FEATURES
HEAVY-DUTY PERFORMANCE
Specially engineered with heavy-duty steel belts and 2-ply polyester construction for towing and carrying heavy loads.
IMPROVED WET WEATHER PERFORMANCE*
Wide grooves help push water away from the tire, which helps reduce the risk of hydroplaning.
IMPROVED WINTER PERFORMANCE*
Specially engineered tread design to help retain traction in snowy conditions to help you power through winter.
LONG-LASTING PERFORMANCE
New and innovative tread-to-road contact footprint allows the tire to adapt to the load and promote more even wear.*